We give you a gift with every order, insert the code in the Order Notes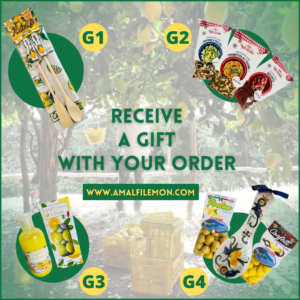 For any order over € 50, enter one of the following codes* in the Order Notes:
– G1 Kitchen set, consisting of wooden cutlery finished in ceramic and a tea towel with typical Amalfi Coast decorations;
– G2 Set of spices for your homemade recipes, consisting of: Italian Spaghettata , Bruschetta, Scents of Costiera;
– G3 A fragrant Lemon Shower Gel and a set of 10 Lemon-scented tealight candles;
– G4 A spoon rest with the typical decorations of Vietri Ceramics, combined with some delicacies such as Limoncello Pralines and Lemon Confetti.
Easter, one of the most important holidays of the year, finally arrives.
A chance to be with family and friends and dedicate a thought and, why not, even a gift.
This year we'll take care of the gift !
Choose our products and receive one of the various gifts we have selected for you for free.
*while stock last